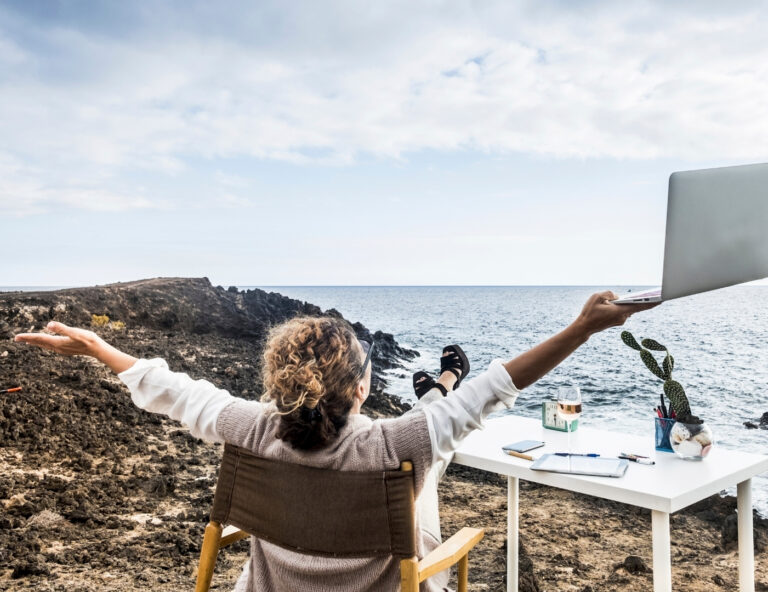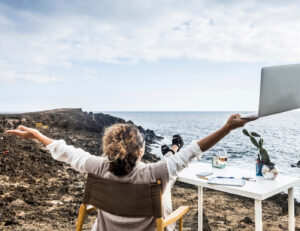 The new luxury is to work where you want, close to those you like. And the new chic is to have more time and freedom. Some days he works from home. In others, he works from a corner coffee table. In others, the park by the sea. The possibilities are endless. And the possibilities to choose, to escape traffic, the hustle and bustle of offices, noise and pollution, contribute decisively to a more serene and productive day.
Sectors such as Advertising, Design, Finance, Insurance, Legal, Marketing, Recruitment, Software and many others have already discovered the advantages of remote work. We too have become remote workers. Our company, Lytron, Brint's older sister, continues to operate at its headquarters in the USA. But now the founding partners are in Portugal and the collaborators at their own addresses, in the USA and in 6 other countries. Even in the USA, the office (now very small) only opens its doors to serve a customer who makes a point of visiting us.
Since we promoted this change, everyone in the company has gained a lot in productivity and quality of life. With all the technology available, it no longer made sense to be stuck in an office and, furthermore, as our employees are passionate about what they do, committed to the result, we didn't need to continue acting like real nannies, supervising them all the time, Is not it?
Contrary to common sense, by allowing people who are passionate about what they do to work remotely, they have not only fulfilled their goals, but have often gone further. For those in love do not see remote work as the simple exchange of the office cubicle for the kitchen table: they see it as an opportunity to be influenced by more things, by more experiences and to have more perspectives than if they were stuck in a place, at times and routines.
And it is exactly in this change of sensory state that Portugal enters this story.
New experiences, new perspectives, new inspirations
Think of this small country as a magical, inexhaustible source of new experiences, new perspectives, new inspirations. Here you will find breathtaking landscapes, foods that make you salivate, wines to delight. You will come into contact with a culture that brings together the customs of the dozens of peoples who lived here and those who were once part of the Portuguese empire. Here, you will be instigated to know the history of this fascinating country. A true epic, full of adventures and conquests.
The charming islands of the Azores and Madeira (the latter, a hub of remote workers); the coastal paradises of the Algarve, such as Lagos, Carvoeiro and Portimão; the giant wild waves of Nazaré and Peniche (surf sanctuaries); the small and charming villages of the interior, such as Óbidos and Monsaraz; the mysterious beauty of Sintra and the Schist Villages; the historical wonders of Braga, Guimarães and Coimbra; the cosmopolitans Lisbon and Porto… all of this is, believe me, a small taste of what awaits you.
In terms of infrastructure, Portugal is also fine: it has three international airports (Lisbon, Porto and Faro), nine seaports (Sines, Leixões and Lisbon are the main ones), impressive high-speed motorways, a high-speed train connecting the main cities in the country with the main European cities, a fiber optic network that guarantees high internet speeds throughout the territory, in addition to all the amenities of any other Western European country.
And as if that were not enough, Portugal still gave us the gift of its strategic location, as the gateway to the European continent. Living here, in just two or three hours, you can be in Rome, Paris, Milan, Venice, Amsterdam, Brussels, Madrid, Munich, Barcelona, ​​Frankfurt, Prague or in dozens of other stunning cities. And the best: free transit in 26 countries of the European Union, without the need for a visa or currency exchange.
The official language is Portuguese, which has a structure very similar to that of English, despite having much more tenses. But, don't worry: English is widely spoken, mainly in big cities, in the Algarve or at any point of tourist attraction (which means practically all over the country).
Therefore, there is no lack of reasons for you to consider living for some time or, why not, to move permanently to Portugal.
More freedom to air ideas and keep the creative mind. More motivation. More productivity.
An investment in quality of life, with inevitable repercussions on your health and the health of your career.
It's time to evolve. Allow yourself!