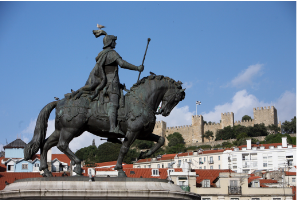 When most people think of places where famous people live, they usually come up with places like Beverly Hills, London, New York City, or even Miami Beach. But did you know that Portugal is quickly becoming the residence of choice for many of your favorite movie stars, pop singers, and other celebrities?
That's because many famous people realize that Portugal offers incredible culture, fascinating history, and breathtaking homes all in a more relaxed, laid-back environment in which their budget can go a lot farther. Celebrities are just like us: They want stability, beauty, and security while in a culture that is both welcoming and affordable.
So Who Lives in Portugal?
Unlike high-profile celebrity destinations, famous people who move to Portugal don't usually publicize it. Maybe it's because they can live simpler, more normal lives when they aren't always in the spotlight all the time.
That's probably why Madonna, arguably the most famous people in the world, spends most of her time when she's not touring enjoying quality time with her family in her home in Sintra.
Movie star Scarlett Johansson also lives in Portugal. When she's not starring in Marvel movies as Black Widow, the actress spends time in an apartment in the trendy Principe Real neighborhood of Lisbon, which is also home to actors Michael Fassbender and Monica Bellucci, and designer Christian Louboutin.
While soccer isn't as popular in the US as football or basketball, it's huge in Europe. The best soccer players are as famous there as Lebron James or Tom Brady is in America. That's why famous footballers Eric Cantona, Wayne Rooney, Steven Gerard, and Teddy Sheringham all chose to escape the glare of publicity on the beaches of The Algarve.
Other Famous Portugal Residents
Who else lives in relative anonymity in Portugal? Actor John Malkovich and pop singers Bonnie Tyler and Cliff Richards to name a few.
If you move to Portugal, who knows? Your new neighbor might just have a very familiar face!